Want to keep your car in great condition for years to come? Obviously, the answer is yes! One of the best ways to do so is to bring your car to a mechanic for regularly scheduled maintenance appointments as recommended by the manufacturer. These are important for making sure that your car is in good condition for safe commutes around Lewisburg, Sunbury, and Danville, PA.
But how do you know when to bring your vehicle in for maintenance? Our team at Blaise Alexander Chrysler Dodge Jeep Ram FIAT of Lewisburg is here to help you find out by providing you with customized information about your specific vehicle model. Simply find your model listed on this page and click through to discover your car's maintenance schedule.
The Importance of Car Maintenance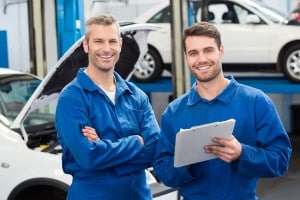 Regular maintenance checkups for your vehicle are designed to help catch potential problems with your vehicle before they can develop into expensive problems that need to be repaired. During your appointment, your mechanic will check out all of your car's most important systems. Any worn or damaged parts can be replaced with new ones, and you'll get an engine oil change and tire rotation.
 All of these services will increase your car's overall lifespan and save you lots of time and money in the long run on repairs. Each model is unique, so be sure to check your maintenance schedule for advice on when to schedule these services.
Care for Your Car at Home
In between your regularly scheduled maintenance appointments, it's a good idea to provide your car with some quick checks and care at home. Start by checking your car's important fluids regularly to make sure that they're filled up and there's not leaks in any of the tanks. Pay attention for any strange sounds from the car, such as squeaky brakes or knocking coming from under the hood.
For additional information on the services and checks you can perform at home, check your owner's manual. If you notice anything that doesn't seem right, seek advice from your mechanic right away.
Discover Your Maintenance Schedule
Locate your car model on this page and discover your maintenance schedule. When you're ready, contact Blaise Alexander Chrysler Dodge Jeep Ram FIAT of Lewisburg to schedule your maintenance appointment, and we'll get you back on the roads of Lewisburg, Sunbury, and Danville in no time.