The Finance Department That Sets the Stage Toward Fair Vehicle Ownership
A car dealership shouldn't only provide high-quality vehicles; it should also provide exceptional customer service and useful financial services. Luckily, you can find all three of these aspects at Blaise Alexander Chrysler Dodge Jeep Ram Fiat of Lewisburg. We love to help our neighbors in Lewisburg, Sunbury, and Danville find the best price for their new car-and with our large inventory and financial wizards, we can do so.
A Big Broad Look at the Finance Department
The financial side of buying a car is often overlooked for several reasons: jaw-dropping deals excite drivers, flashy cars distract customers, and the stress-inducing nature of financial talk makes potential customers nervous. However, the financial aspect of our Chrysler Dodge Jeep Ram FIAT dealer takes a smart and broad look at finances.
Potential buyers can complete an online financial form that will help them jump-start their vehicle loan. The application serves to limit any potential hurdles for the future by establishing where a buyer can work with the finance department and how they can proceed in this process.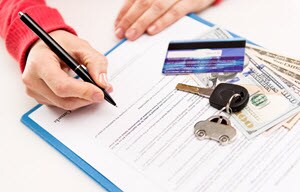 Don't miss the opportunity to value your trade now, too!
The Fair Approval
Waiting for approval can be nerve-wracking. Fortunately, most-if not all-of loan applications are approved at our dealership. Since we have well-established relationships with local banks and lenders, most customers can receive approved loans that would be unlikely at anywhere else. Whether you have good credit, poor credit, or decent credit, find out today what kind of loan you can receive.
Seeking more details? Feel free to contact our friendly financiers by calling our dealership today. A new car isn't far away, and with fair and manageable loans at your disposal, the car-buying process has never been easier. Start today by filling out our online financial application. The terms are clear and the process can easily begin without any unnecessary hassles.
Auto Financing near Me
As one of our Lewisburg, Sunbury, and Danville drivers, you have direct access to the many useful financial solutions we offer at Blaise Alexander Chrysler Dodge Jeep Ram FIAT of Lewisburg. Contact our finance department today by filling out the form below and we'll do our best to get you behind the wheel of your next dream car.