We know how hard you work to dominate a day on the job. So, when it's time for you to hitch up your cargo and get moving down the road, don't let a sluggish truck stand in the way of accomplishing what you need to get done. Instead, opt for the weight-hauling prowess of a Ram Truck.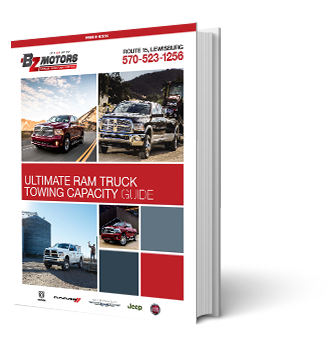 When armed with the strength of these pickups, you'll never question your truck's ability to haul items of any shape, size, or weight. And to help you navigate the impressive towing specifications of these vehicles, we're here with our Ultimate Ram Truck Towing Capacity Guide eBook.
Tucked into the pages of this handbook, you'll discover all the information you need about these hauling legends, plus some additional details on the features that improve the brawn of these automobiles. Included in this FREE eBook are things like:
2018 Ram 1500: Towing Capacity
2018 Ram 2500: Hauling Capabilities
2018 Ram 3500: Pulling Prowess
Ram Truck Towing: Safety and Features
On top of that, this eBook comes packed with a variety of convenient coupons, all of which will save you some cash when it's time for you to purchase your next Ram truck.
With all the perks included inside this Ultimate Ram Truck Towing Capacity Guide eBook, why wouldn't you download your copy right away? Simply click on the link and start reading to begin your Ram truck journey today!