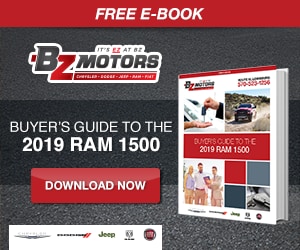 When you've got lots to accomplish in a day's time, you want to team up with a legendary ride that's capable of taking on any type of challenge. Well, behind the wheel of the 2019 Ram 1500, nothing will prevent you from meeting your productivity goals.
Not only does this pickup offer up the muscle required for a long day on the job, but it also delivers on your technology, comfort, and towing requirements.
Of course, that's only part of what makes this hardworking icon so special. To find out why this truck has a place at the top of the shopping lists of performance enthusiasts and towing warriors alike, check out this Buyer's Guide to the 2019 Ram 1500 eBook.
Within the pages of this comprehensive guide, you'll discover more about the newest version of the Ram 1500 and all the ways it can help you tackle tough tasks. Some of the topics covered in this FREE eBook include:
Ram 1500 Configurations
Performance and Capability
Exterior Features
Interior Features
Getting Behind the Wheel
Now that you know what you'll learn by reading our Buyer's Guide to the 2019 Ram 1500 eBook, it's time to get started! All you have to do is click the download link and take a look at the most impressive aspects of this potent pickup. Download your copy and begin reading today!