No matter what you need to get done during the day, it's essential to be armed with a vehicle that can handle it all. So, instead of putting up with a truck that hesitates to dominate the highway, choose the impressive performance and potent power of the 2018 Ram 1500.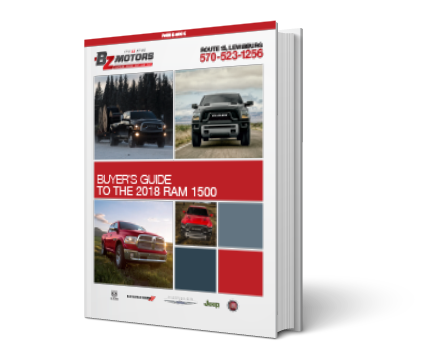 To help you understand just how far this pickup will take you, we're here with this comprehensive Guide to the 2018 Ram 1500 eBook. By delving into the details found inside this guide, you'll discover more about various aspects of this terrain-tackling truck.
From performance options to technology advancements, and so much more, this guide will suit you up with all the information you need to learn more about the Ram 1500. Within the pages of this FREE eBook, you'll read about different specifications, such as:
Engine Power & Fuel Economy
Cargo, Storage, & Towing
Inside the Ram 1500
Trim Levels
Warranties & Services
Why wait around to explore more about the exciting gadgets and spinetingling performance of this capable pickup? Download a free copy of the Guide to the 2018 Ram 1500 eBook by clicking the link on this page and diving into the information. Start reading today!